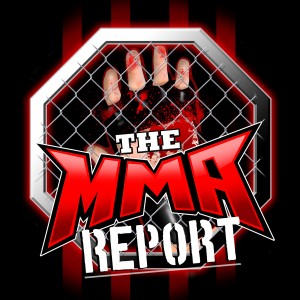 Jason Floyd and Daniel Galvan kick off this week's episode of The MMA Report Podcast by recapping what happened last weekend in New York City at Bellator 222.
They hit on Rory MacDonald setting up a rematch with Douglas Lima, Chael Sonnen announcing his retirement, Kyoji Horiguchi claiming the bantamweight title, Bellator releasing video footage of Darrion Caldwell and the future of Aaron Pico.
Up next, they discuss what happened on the season debut of Dana White's Contender Series. Find out how they feel about Dana White deciding to not award Brendan Loughnane a UFC contract. Plus, they hit on the clear message White is sending to fighters set to fight later this season on the Contender Series.
Then it's the interview portion of the podcast as Jason chats with Calvin Kattar, Rob Font, Eryk Anders and Alton Cunningham. Kattar (32:37) recaps his win earlier this month at UFC 238 against Ricardo Lamas, Font (40:53) previews his rematch against John Linker on Saturday at UFC Greenville, Anders (51:25) previews his fight next week at UFC Minneapolis against Vinicius Moreira and Cunningham (1:03:20) talks about his fight next week on the Contender Series against Tony Johnson.
Following the interviews, Daniel rejoins Jason to preview this weekend's UFC Greenville and Bellator London. Plus, they hit on Saturday's Bare Knuckle Boxing event and look ahead to next week's Contender Series lineup.
Subscribe, Rate and Review to the The MMA Report Podcast on Apple Podcasts, Stitcher and Google Podcast.
Follow Jason Floyd on Twitter and Instagram
Follow Daniel Galvan on Twitter
Subscribe to The MMA Report on You Tube for all of Jason's video interviews
Podcast: Play in new window | Download | Embed