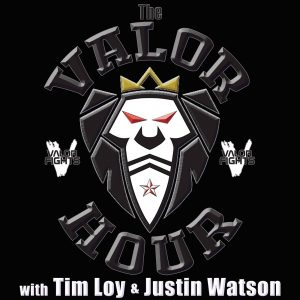 This week on The Valor Hour, Valor Fighting Challenge matchmaker Tim Loy is joined by the cutman Mark Laws to chat with Greg Hopkins and Caleb Austin, each of whom have fights at VFC 60: Fight Night At The Joe next Friday night in Knoxville, TN.
Greg is no surprise to The Valor Hour as he normally co-hosts with Tim but this week, the scripts are flipped as Greg joins the show as a guest to talk about his pro debut next Friday night at VFC 60 against Nick Jewell. He talks about how he's been training for the fight, the year layoff following his loss to Trevor Peek, recovering from breaking both of his hands in that fight, his respect for Jewell, and his expectations for the fight.
Caleb Austin comes into VFC 60 contending for the amateur bantamweight championship in his fight against Amun Cosme. Austin has his sights set on turning pros after a few more fights, especially since he's been training with many of them, but he isn't overlooking Cosme at all. He knows that this is a much needed step up in competition and he hopes Cosme is ready to stand up and bang since he's sticking to his usual game plan of getting after it and being aggressive.
Subscribe to The Valor Hour on Apple Podcasts, Stitcher, TuneIn Radio, and Google Play
Podcast: Play in new window | Download | Embed