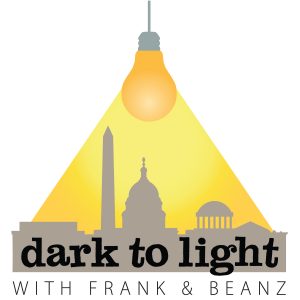 This Monday edition of the Dark to Light podcast is absolutely the most fiery Frank and Beanz have ever recorded. On this episode, they begin by showcasing the absolutely reprehensible behavior of Representative Brian Sims of Pennsylvania, as he harasses a pro-life protestor outside of a Planned Parenthood facility. From there, the pair move on to the other abortion related protests this past week, where some pro abortion protesters stomp on the mock graves of babies and exclaim how proud they are to have had abortions.
Then, they discuss the statement by John Bolton on Iran  which leads them to the comments of Ilhan Omar and Rashida Tlaib over the weekend in regards to Israel and Hamas. Also, they shine a spotlight on the stark difference between her and Kirsten Sinema from Arizona.
Frank and Beanz end off the show on a fiery note as they passionately address the censorship issues the right is facing. Is this America? Don't miss this episode of the Dark to Light Podcast.
LINKS WE DISCUSSED
Washington Post: Mueller Complained That Barr's Letter Did Not Capture "Context" Of Trump Probe
BOGO Ticket Offer For #WalkAway
Follow Tracy Beanz on Twitter and subscribe to her YouTube channel!
Follow Frank on Twitter, subscribe to his YouTube channel, and follow his solo podcast, Quite Frankly!
Subscribe to Dark To Light With Frank & Beanz on Apple Podcasts, Stitcher, TuneIn Radio, and Google Play!
Podcast: Play in new window | Download | Embed