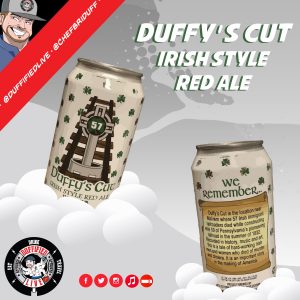 A few years ago, my father told me the story of "Duffy's Cut," a wild tale of corruption, hidden documents, murder, and the blatant mistreatment of the Irish and what it was like in the 1830s. My father was an avid reader and LOVED history so it was fitting that he would get involved in the story of "Duffy's Cut" while he was working on his 5th degree, this one was his Doctorate and he was doing it at Immaculata University in the western suburbs of Philadelphia.
Today, I get to speak to William Watson of Immaculata College and Joe Modestine of Doylestown Brewery. William is the author and historian for the entire project while Joe has brewed a beer that is raising money that will assist in the exhuming of the remaining fifty bodies that are buried in this mass grave.
Duffy's Cut is the name given to a stretch of railroad tracks about 30 miles west of Philadelphia, Pennsylvania originally built for the Philadelphia and Columbia Railroad, which later became part of the Pennsylvania Railroad's Main Line. In June 1832, a contractor and fellow Irishman named Philip Duffy hired a group of 57 Irish immigrants to lay this line through the area's densely wooded hills and ravines.
The workers came to Philadelphia from the Ulster counties of Donegal, Tyrone, and Derry to work in Pennsylvania's developing railroad industry. Less than two months after their arrival, all 57 are believed to have died during the second cholera pandemic. While most died of the disease, forensic evidence suggests that some may have been murdered, perhaps due to fear of cholera in the area and surrounding counties. They were buried anonymously in a ditch outside of Malvern.
The Duffy's Cut Project began undergoing archaeological excavation in August of 2004 by a research team headed by Dr William Watson from Immaculata University, Rev. Dr Frank Watson, Earl Schandelmeier and John Ahtes (who passed away in 2010). The team took on the momentous task of archival and archaeological search into the life and death of the forgotten men of Duffy's Cut. Seeking to provide insight into early 19th Century attitudes about industry, immigration, and disease in Pennsylvania. On March 20, 2009, the first human bones were unearthed, consisting of two skulls, six teeth and eighty other bones.
This week's episode of Duffified Live is presented by CAKE, which is is the Point of Sale system that lets bar & restaurant owners focus on the guest experience. Stop worrying about tracking every sale  – CAKE does that for you. You can automatically save information and review it later, from anywhere. That means you can actually take days off, which can be pretty rare in the restaurant business. So, restaurant owners, go to trycake.com/duffy and take a look. CAKE makes it easy
Follow Chef Brian Duffy on Twitter and on Facebook.
Check out his website to learn more about him, to find his products, and some incredible recipes!
Subscribe to the show on iTunes and Stitcher and don't forget to rate and review the show.
Podcast: Play in new window | Download | Embed