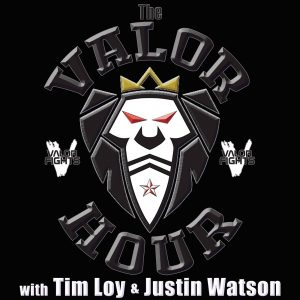 This week on The Valor Hour, Valor Fighting Challenge matchmaker Tim Loy, Justin Watson, and Greg Hopkins open the show recapping last Saturday night's Bellator 214 card that saw Ryan Bader knockout Fedor Emelianenko, in what could be his final fight, as well as looking ahead to this weekend's UFC card on ESPN+ from Brazil.
The guys kick off the interview portion of the show chatting with Trevin Brown, who is battling Trevor Peek for the Welterweight Championship at Valor Fighting Challenge 55: Fight Night At The Joe, in his first main event fight. Trevin says that he feels great and is really excited to be having his first main event against a guy he's very familiar with. He talks about the weight cut he's gone through to get down to 170 lbs for the fight as well as what his cousin, Quinton "Rampage" Jackson, told him going into his first title fight.
Next up, Chris "No Love" Buttry joins the guys to talk about his fight against Rodrigo Martinez at Valor Fighting Challenge 55. Chris talks about preparing for the battle, working on his ground game, and being proud to be a banger. He hits on losing his last few fights, what he has to do to turn things around, and having the ability to cross train with a bunch of different fighters to prepare for Martinez. He says he's surrounded himself with the right people and he's ready to go.
Joe Bradley, one half of the co-main event at Valor Fighting Challenge 55 Friday night, battles Joseph Long for the vacant Lightweight Championship. Bradley talks about his background, some of his prior fights, and coming into this fight knowing that one of these guys will leave the fight not being undefeated. He said that Long presents a great matchup and they're very similar in style.
Chloe Padilla wraps up the interview portion of the show talking about her MMA debut at Valor Fighting Challenge 55 against Mary Rosenbeck. Chloe has been a trainer for years at Frankie's Body Shop and has a back. If the Padilla name sounds familiar, she's the daughter of Frankie Padilla, the owner of Frankie's Body Shop. She talks about how she's prepared after being a part of so many other fights she's helped other prep for. Padilla is a natural competitor, having been a part of fitness competitions for years. She found MMA through Jason King after falling out of love with the fitness game due to politics. She talks about the challenges of training other fighters while training for her own fight, preparing for the fight, and what to she expects to see from Rosenbeck.
Finally, Jeff Hobbs, Mark Laws, and David Robins join Tim and Greg for the Valor Fighting Challenge 55 Picks Panel as the crew previews the entire fight card and shares their thoughts on what will be a great night of fights at the Cotton Eyed Joe.
Here's the full fight card:
Featherweight: Jacob Hatfield v Zacariah Hammock
Bantamweight: Jake Phillips v Zac Wright
Heavyweight: Ethan Sanders v Phelan Booker
Middleweight: Brandon Nelson v Darren Hastings
Light Heavyweight: Devin Davis v Josh Ogle
Bantamweight: Winner Mogollon v Dusty Little
Catchweight: Jacob Wright v Ray Hewlett
Flyweight: Katylyn Deininger v Sara Hayes
Featherweight: Shaun Hammond v Nick Wigly
Lightweight: Ethan Robinson v Anthony Cochrane
Featherweight: Andrew Sturdivant v Garrett Sharp
Catchweight: Da'Quane Sutton v Brandon Quindry
Welterweight: Ryan McCullough v Josh Miller
Bantamweight: Mary Rosenbeck v Chloe Padilla
Catchweight: Chris Buttry v Rodrigo Martinez
Co-Main Event – Lightweight Championship: Joe Bradley v Joseph Long
Co-Main Event – Welterweight Championship: Trevor Peek v Trevin Brown 
Subscribe to The Valor Hour on Apple Podcasts, Stitcher, TuneIn Radio, and Google Play
Podcast: Play in new window | Download | Embed