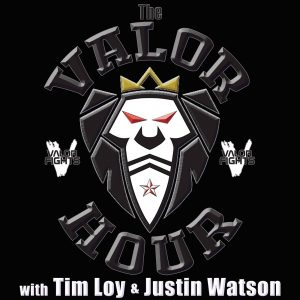 This week on The Valor Hour, Valor Fighting Challenge matchmaker Tim Loy and Justin Watson open the show by recapping UFC 232. The guys talk about a great night of action that saw a few surprises, Cat Zingano take a toe to the eye, BJ Penn lose in what may be his final fight, Amanda Nunes win her second title, and Jon Jones win the Light Heavyweight Title in a fight against Alexander Gustafson.
Next, David Robins joins the show to talk about his next fight at Valor Fighting Challenge 54 in Knoxville, TN against Daeshaun Middleton on January 19th. David talks about his win in his last fight, which was his pro debut, how he wants to keep the momentum rolling, his expectations for the Middleton fight, being excited to fight at The Coliseum in Knoxville, wanting to kick 2019 off with a bang, and so much more.
"Big Sexy" Billy Swanson checks in to talk about his fight against John Hall in November where he won the title. He also talks about his upcoming opponent, Harry Hunsucker, who has more pro experience than Swanson but he doesn't seem overly concerned. Swanson went so far as to say the he likes John Hall and you saw what happened to him. He has no relationship at all with Hunsucker so just wait and watch.
Finally, "The Asian Persuasion" Jason King touches base about his last fight against Nick Jewell. He said that he wasn't real happy with the fight in spite of getting the win because he entered the fight more dinged up than he let on. He talks about rehabbing and recovering from his injuries before his upcoming fight against Jason Wolfe at Valor Fighting Challenge 54.
Subscribe to The Valor Hour on Apple Podcasts, Stitcher, TuneIn Radio, and Google Play
Podcast: Play in new window | Download | Embed