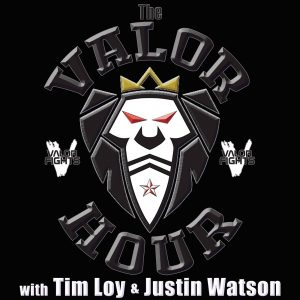 This week on The Valor Hour, Valor Fighting Challenge matchmaker Tim Loy, Justin Watson, and Greg Hopkins recap both Bellator 212 and Bellator 213 events and UFC Milwaukee from last weekend.
They start out with Bellator 212, which really didn't have too many surprises. Even though Brent Primus took a loss from Michael Chandler, Primus took him the distance and proved he belonged. On the other hand, it was really tough watching Frank Mir, with his daughter in his corner, tap out the way he did.
Moving onto the stacked Bellator 213 card, the guys break down Neiman Gracie's upset victory over Ed Ruth, Liam McGeary's upset victory over King Mo, and Ilima-Lei Macfarlane's submission win over Valerie Letourneau to retain her Women's Flyweight Championship.
The guys then jump into UFC Milwaukee, which is the final UFC on Fox event as it transitions to ESPN for their next card. The guys were all over the upset by Mike "Slo" Martinez and tell you that he's a guy that you need to keep an eye on. They also discussed the horrible loss by Jim Miller at the hands of Charles Oliviera and the decision in the main event that saw Al Iaquinta knock off Kevin Lee.
Finally, Tim, Justin and Greg gives a quick sneak peak at UFC 232, main evented by the returning Jon Jones battling Alexander Gustafsson.
Subscribe to The Valor Hour on Apple Podcasts, Stitcher, TuneIn Radio, and Google Play
Podcast: Play in new window | Download | Embed