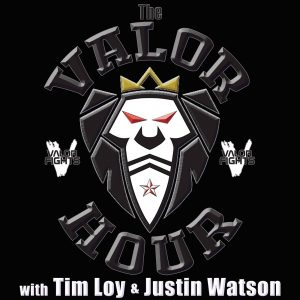 This week on The Valor Hour, Valor Fighting Challenge matchmaker Tim Loy, Justin Watson, and Greg Hopkins start the show recapping last weekend's UFC 231. The guys were really impressed with the main event, especially Max Holloway, and asks if we could be in line for a Conor McGregor/Max Holloway rematch. Speaking of McGregor, the guys talk about his future, what weight class his next fight may be at, and if he does fight Holloway, what's in it for Max.
Then, the guys chat with "The All-American Kid" Sid Wheeler, who battles Leon Aliu December 22nd at Brave CF in India. He talks about how much he loves fighting at 185 lbs, how trying to get down to 170 lbs was just too much, and then he focuses on Aliu and his preparation for the fight.
Finally, the guys preview all of this weekend's action at Friday night's Bellator 212 and Saturday night's Bellator 213 and UFC On Fox 31 full fight cards.
Subscribe to The Valor Hour on Apple Podcasts, Stitcher, TuneIn Radio, and Google Play
Podcast: Play in new window | Download | Embed