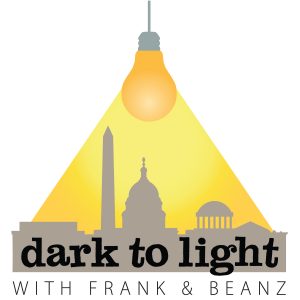 It's a laid back "Black Friday" episode of the "Dark to Light Podcast" with Frank and Beanz! This week, we meander around many topics, from entertainment, Stormy Daniels and the employment crisis she is facing, as well as her "Creepy Porn Lawyer" Michael Avenatti and his exploits. We speak about the importance of accountability to our listeners and we discuss what investments we are making to bring YOU, the audience, a better production.
Then, we talk a little about John Huber, his ongoing investigation into the Clinton Foundation, and what it may mean. Frank and Beanz also get into the feelings of doubt and frustration that folks are having about the progress of prosecutions and what some of the recent mainstream media pieces may foreshadow.
Finally, we delve into the circumstances in Saudi Arabia, how there was peace across the DM, and end the show speaking about a recent measure by the Department of Education, which changes rules implemented by the Obama administration that effectively REMOVED due process for students accused of sexual assault, and how the left is reacting to that.
Buckle in with your tea and stay safe from the Black Friday hoards with the newest episode of the "Dark to Light" podcast!
This episode of Dark To Light is presented by Skillshare is an online learning community with over 20,000 classes in business, design, technology. You can take classes in social media marketing, data science, mobile photography, creative writing – you name it, they've got it. Skillshare is offering Dark To Light listeners two months of unlimited access to over 20,000 classes for just 99 cents. To sign up, go to Skillshare.com/darktolight.
Follow Tracy Beanz on Twitter and subscribe to her YouTube channel!
Follow Frank on Twitter, subscribe to his YouTube channel, and follow his solo podcast, Quite Frankly!
Subscribe to Dark To Light With Frank & Beanz on Apple Podcasts, Stitcher, TuneIn Radio, and Google Play!
Podcast: Play in new window | Download | Embed