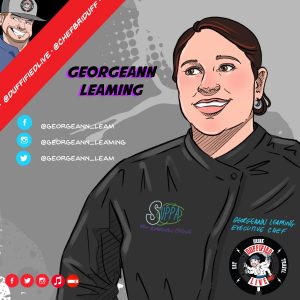 A bunch of years ago in Philadelphia, I'm setting up for an and in walks this woman with red hair, a fiery attitude, and she was 100% the boss of the evening! We connected that night and have been great friends ever since.
Chef Georgeann Leaming is the Executive Chef for the Gordon Ramsay Steak in Atlantic City, NJ. A two time contestant on Food Network's "Chopped" and former Executive Chef for Gordon Ramsay Pub & Grill, Chef Leaming has owned and operated two very successful properties in the Philadelphia area.
This week, she discusses her career, her time on the Food Network, as well as her roles in Philadelphia and Atlantic City at her new Gordon Ramsay Restaurant.
Follow Chef Brian Duffy on Twitter and on Facebook.
Check out his website to learn more about him, to find his products, and some incredible recipes!
Subscribe to the show on iTunes and Stitcher and don't forget to rate and review the show.
Podcast: Play in new window | Download | Embed