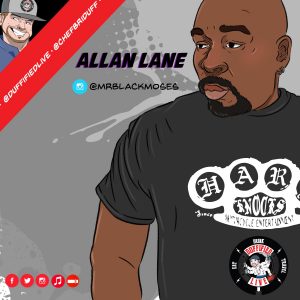 Six years ago, I bought a Harley Davidson. The rest is history. The people that I have met simply because of the bike are astounding. Due to the work that I do, I get to meet some pretty dynamic people and Allan Lane is definitely one of those people.
Allan is a Philly guy through and through, growing up in the city, and knowing the streets like the back of his hand. His older brother coerced him to get on the bike for the first time and his Mom immediately made him get off of it.
Now, Allan owns Hard Knocks Motorcycle Entertainment (HKME), which focuses on publishing, talent management, professional event planning/production, marketing, and promotion.
HKME launched the first issue of SportBikes Inc. Magazine in 2010 to provide an authentic voice to the sportbike culture and subcultures, therein. SportBikes Inc. Magazine is unique in that it incorporates all aspects of the motorcycle lifestyle, from local motorcycle clubs and riders to professional road racing teams and riders, including product spotlights, testing, and reviews.
Allan also serves as an event host, emcee, and spokesperson for a number of motorcycle apparel/accessories manufacturers.
This conversation is like two old buddies shooting the shit for an hour, name drops, brand drops, and good old fashioned "war stories" are what this episode is all about.
You're going love Allan Lane and you're going to love Duffified Live!
Follow Chef Brian Duffy on Twitter and on Facebook.
Check out his website to learn more about him, to find his products, and some incredible recipes!
Subscribe to the show on iTunes and Stitcher and don't forget to rate and review the show.
Podcast: Play in new window | Download | Embed