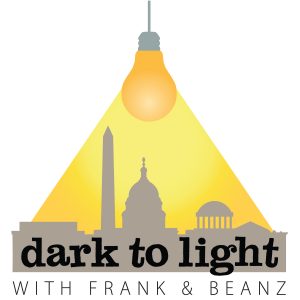 On today's episode of "Dark to Light," Frank and Beanz are back in the saddle together, talking about all of the news that's fit to err… mock? They start with a quick recap of the #WalkAwayMarch in all of its inclusion and glory, and quickly get into analysis, covering George Papadopoulos' recent record breaking tweets as well as the theories surrounding what his initial role may or may not have been. Who was he working for? Was he oblivious to what was happening around him? What will his interview with Dan Bongino look like?
Then, they move into some interesting discussion about Roger Stone, who has been a focus of the Special Counsel lately. The New York Times had two pieces out yesterday which
raise questions about how close he actually was with the campaign. Why did Steve Bannon rebuke Stone so easily? Frank and Beanz move on to talk about the Project Veritas video exposing Beto in Texas, and Hurricane Frank sweeps in to educate us on some history regarding the 14th amendment and how (if at all) it applies to today's world.
Finally, the team tackles some midterm election predictions and close out strong with their thoughts on what will be going down Tuesday. Also, President Trump tweets an homage to
"Game of Thrones"?!
Don't miss this weeks "Dark to Light" with Frank and Beanz!
LINKS WE COVERED
NBC News on Roger Stone and Robert Mueller
Skillshare is an online learning community with over 20,000 classes in business, design, technology. You can take classes in social media marketing, data science, mobile photography, creative writing – you name it, they've got it. Skillshare is offering Dark To Light listeners two months of unlimited access to over 20,000 classes for just 99 cents. To sign up, go to Skillshare.com/darktolight.
If you enjoy the show and want to support it, make sure to check out Blinkist. If you're a book lover, Blinkist is taking care of you. The Blinkist app transforms the key insights of 2500+ bestselling nonfiction books into powerful packs you can read or listen to in just 15 minutes. Over 5 million people are using Blinkist everyday to glean the insights they need to become their best selves. Right now, for a limited time, Blinkist has a special offer just for our you. Go to Blinkist.com/DarkToLight to start your free 7 day trial. You can cancel any time. Visit Blinkist.com/DarkToLight now!
Follow Tracy Beanz on Twitter and subscribe to her YouTube channel!
Follow Frank on Twitter, subscribe to his YouTube channel, and follow his solo podcast, Quite Frankly!
Subscribe to Dark To Light With Frank & Beanz on Apple Podcasts, Stitcher, TuneIn Radio, and Google Play!
Podcast: Play in new window | Download | Embed