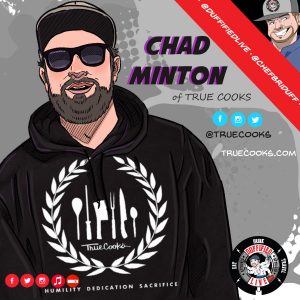 How does a chef go from climbing the ladder to become the executive chef for the Ritz Carlton in Los Angeles to owning a culinary brand? Maybe the question isn't how. Maybe, the question is why.
This week on Duffified Live, Chef Brian Duffy chats with Chef Chad Minton, CEO and owner of True Cooks, a culinary lifestyle brand that is taking the world by storm. With 250,000+ followers to this brand, Chad has taken the basics of focusing on the "cook" as opposed to the "chef" and created a worldwide brand.
The guys discuss everything from how and why he built the brand to the current state of the restaurant industry and where it's going.
They have a great discussion about the heart of the house employees leads to a discussion that both of us agree on!
Follow Chef Brian Duffy on Twitter and on Facebook.
Check out his website to learn more about him, to find his products, and some incredible recipes!
Subscribe to the show on iTunes and Stitcher and don't forget to rate and review the show.
Podcast: Play in new window | Download | Embed