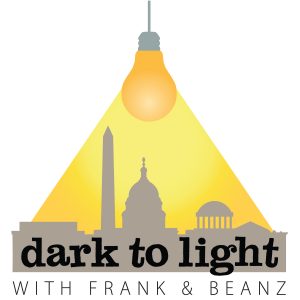 On today's episode of "Dark to Light" Frank and Beanz dedicate the show to commentary on the topic that EVERYONE is talking about– The Brett Kavanaugh hearings. Frank and Beanz dive into a breakdown of the hearing, from start to finish. They start by analyzing Christine Blasey Ford and her testimony. What did the Republican attorney Miller have to say? How did her line of questioning work out? What was the democrat strategy and did it work? Then, they dive into the clear inconsistencies in her story, talking about air travel, polygraphs, and construction in her home.
After that, they move to Kavanaugh, and they describe his opening statement, the quality of his character, and how he handled the questioning. While they are at it, they ask the most important question and what is on everyone's mind. Does Brett Kavanaugh like beer? What is his penchant for flatulence? Moving back to serious discussing, Frank and Beanz explore what in the WORLD has happened to Senator Lindsay Graham in the past several weeks and did John McCain's death have something to do with it?
To close, fake Brian Stelter makes an appearance as Frank and Beanz finish out the show in their acting debut. You don't want to miss this one!
If you enjoy the show and want to support it, make sure to check out our sponsors:
This episode of Dark To Light With Frank & Beanz is brought to you by Vivid Seats. Vivid Seats is an online event ticket marketplace dedicated to providing fans of live entertainment with experiences that last a lifetime. Go to the App Store or Google Play and download the Vivid Seats app. Enter promo code INFLUENCE to receive 10% off your first purchase with Vivid Seats.
Follow Tracy Beanz on Twitter and subscribe to her YouTube channel!
Follow Frank on Twitter, subscribe to his YouTube channel, and follow his solo podcast, Quite Frankly!
Subscribe to Dark To Light With Frank & Beanz on Apple Podcasts, Stitcher, TuneIn Radio, and Google Play!
Podcast: Play in new window | Download | Embed