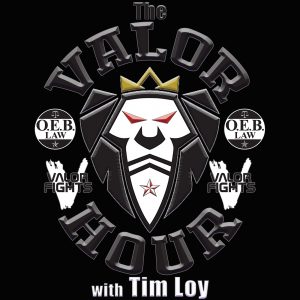 This week on The Valor Hour presented by O.E.B Law, Valor Fights President Tim Loy is joined by Mark Laws and fight judge Justin Watson to recap last weekend's PFL 7 and Invicta FC 31 cards and share their thoughts on how things went and if there were any surprises.
Then, the guys are joined by Chandler "The Hammer" Cole, who broke the news that he was forced to back out of his next fight due to a case of shingles. Cole said he's still battling the illness and has lost 20 pounds because of it. As far as the cage goes, he said he's really hoping to battle back from the illness and make The Contender Series next month and setting his sights on the 225 lb belt. He also talks about fatherhood, as he and his girlfriend are expecting in December.
Finally, the guys wrap things up by previewing this weekend's UFC 228 card, both from the technical fight side of things and and from a gambling perspective.
Subscribe to The Valor Hour on Apple Podcasts, Stitcher, TuneIn Radio, and Google Play
Podcast: Play in new window | Download | Embed