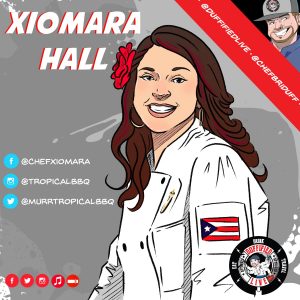 This week's guest on Duffified Live, Chef Xiomara Hall, has seen a lot in the last bunch of years. From being a Marine wife to being a Gold star Wife, a Mother of 4, an accountant, and now a celebrated chef, she hasn't exactly had a lot of time to slow down!
"Z" is now a private chef and a BBQ sauce creator. Chef Brian Duffy and Z talk about everything from the process of creating a product that makes it to market, to her time on Lifetime's "Supermarket Superstar," all the way to discussing her role in the Reality Rally!
Whether shes in the kitchen, on air, or on Tinder, this woman is a full on force to be reckoned with.
Trust me, Z is GREAT and you're going to love her as much as I do.
Follow Chef Brian Duffy on Twitter and on Facebook.
Check out his website to learn more about him, to find his products, and some incredible recipes!
Subscribe to the show on iTunes and Stitcher and don't forget to rate and review the show.
Podcast: Play in new window | Download | Embed