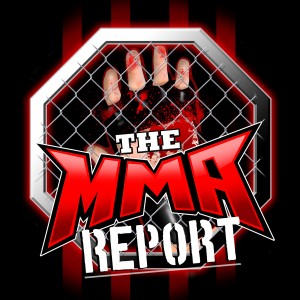 This week on The MMA Report Podcast, Jason Floyd and Daniel Galvan take a look back at what happened this past weekend at UFC 227. Also, Jason has an in-depth conversation with MMA play-by-play announcer Sean Wheelock about his involvement in the Association of Boxing Commissions and Combative Sports MMA Rules and Regulations Committee.
At the beginning of the podcast, Jason recaps last week's podcast with Mike Mazzulli and Andy Foster. Along with recapping what Mazzulli and Foster said last week, Jason talks about his perception on how regulators view weight cutting and what could be coming to MMA over the next year or so related to this topic.
Then the guys get into the title fights that took place at UFC 227. They start off by talking about Henry Cejudo shocking the MMA community with a split decision victory over Demetrious Johnson to become the second flyweight champion in UFC history. Jason and Daniel tell you how they scored the fight and while Cejudo may want a "super fight," the fight to make is the trilogy bout between Cejudo and Johnson.
After their discussion on Johnson vs. Cejudo, they move on to the main event of UFC 227 which saw T.J. Dillashaw retain the UFC bantamweight title with a TKO win over Cody Garbrandt. Find out what Jason and Daniel thought about the game plan from Garbrandt and they debate on which fight makes the most sense for Dillashaw in his next fight.
Up next is a discussion on the fight booking for October 6 in Las Vegas between Conor McGregor and Khabib Nurmagomedov. From the announcement of the fight to how this fight could play out, Jason and Daniel discuss various aspects of this fight booking. Then they move over to Bellator to discuss the bracket for the upcoming Bellator welterweight tournament. They tell you what surprised them about the bracket and the fights they are looking forward to seeing in the opening round.
Then it's on to the feature guest of the week as you will hear the conversation Jason had with Sean Wheelock during the Association of Boxing Commissions and Combative Sports annual meeting in Orlando. During their hour long conversation, you will hear Sean explain how he got involved with the Kansas Athletic Commission and what the MMA Rules and Regulations Committee does for the Association of Boxing Commissions and Combative Sports.
Following the conversation with Wheelock, Jason and Daniel wrap up the podcast by discussing a question Sean asked Jason during their chat and the comments made by Darren Till at UFC 227. Thanks for listening to this week's podcast and be sure to subscribe, rate, and review the podcast on your favorite podcasting platform.
Follow The MMA Report on Twitter and Facebook
Subscribe to the podcast on Apple Podcasts, Stitcher and Google Play
Podcast: Play in new window | Download | Embed