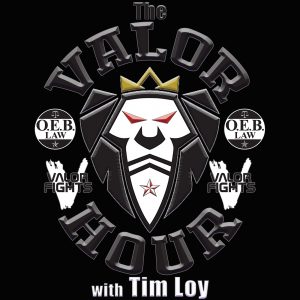 It's fight week as Valor Fights 50 will take place on Saturday night in Knoxville, Tennessee and get ready for the event by listening to this week's episode of The Valor Hour.
Tim Loy is joined by Ed Kapp, Mark Laws, and Allan Poole at the beginning of the show to answer listener questions, which includes a question from a listener about weight cutting and what could be done to ensure fighters are coming in on weight and healthy.
Up next is the interview portion of the podcast as the guys have conversations with Frankie Padilla, Javier Carbajal, Chase Boutwell and Van Hickman. The first interview is with Padilla, who will be facing Sam McAlpin in a amateur heavyweight fight on Saturday night at Valor Fights 50. He speaks about deciding to take an amateur fight, working with Knoxville Mixed Martial Arts, and his matchup against McAlpin.
Then they are joined by Boutwell, who will be defending the Valor Fights amateur bantamweight title against Carbajal. Boutwell talks about his fight on Saturday and being a two-time national amateur champion. Following the conversation with Boutwell, Carbajal comes on to give his thoughts on the fight. Along with talking about the fight, he talked about his wrestling background and being excited for the challenge in fighting Boutwell for the Valor Fights title. And in the final interview on this week's podcast, new Valor Fights cage announcer Van Hickman joins the show to discuss how he got into being a MMA cage announcer and being a stand-up comedian.
After having their chat with Hickman, it's on to the main event of this week's podcast as the picks panel (Mark Laws, Allan Poole, Billy Swanson, Sawyer Rich, and Jeff Hobbs) tell you their picks for the eleven fight card that will take place inside The International in Knoxville on Saturday night.
Thanks for listening and we would appreciate if you would like, and share the podcast with your friends.
Subscribe to The Valor Hour on Apple Podcasts, Stitcher, TuneIn Radio, and Google Play
Podcast: Play in new window | Download | Embed