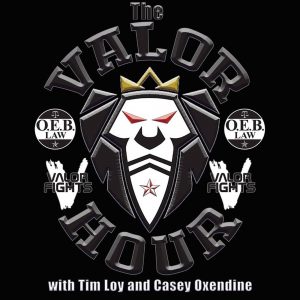 Tim Loy and Casey Oxendine are joined this week by Allan Poole to recap what happened last Saturday night in Knoxville at UFC 223 and they have interviews with Christina Ricker, Jakob Clemons, Aaron Phillips, Randall Austin, and Chris Curtis.
At the beginning of this week's Valor Hour, Tim, Casey, and Allan give their thoughts on what happened at UFC 223 and Tim answers questions submitted by listeners including a question on which Valor Fights vets he would want to see in the WWE.
Then it's one to the interviews and up first is Christina Ricker (10:25), who will headline next week's Valor Fights 49: Fight Night at The Shed as she will take on Megan Poe in a flyweight bout. Up next is one of the men that will be in the co-main event of that card as they speak with Jakob Clemons (20:05) about his Muay Thai flyweight title fight against Walter McCord.
After speaking with Clemons, they are joined by Aaron Phillips (27:08) to preview his 160 pound catchweight bout against Chase Wender. Then in the final Valor Fights 49 interview on this week's podcast, they chat with Randall Austin (34:50) about his bantamweight bout against Javier Carbajal. And in the final interview, they bring in CES MMA welterweight champion Chris Curtis (40:24) to recap his successful title defense last week at CES MMA 49.
Thanks for listening and we would appreciate if you would like, and share the podcast with your friends.
Subscribe to The Valor Hour on Apple Podcasts, Stitcher, and Google Play
Podcast: Play in new window | Download | Embed