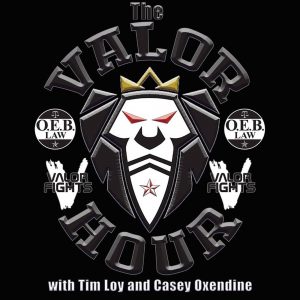 On this episode of The Valor Hour, Tim Loy and Casey Oxendine are joined by Allan Poole and Mark Laws to discuss the latest news in MMA and preview this weekend's mixed martial arts action.
Along with previewing this weekend's UFC and Bellator fighters, the guys discuss the situation involving current UFC lightweight champion Conor McGregor and Tim answers listener questions.
Then it's on to the interview portion of the podcast as they are joined by three fighters that will be on the Strikefest 2 fight card on December 16. Up first is Nathan Williams (25:20), who will meet Steven New in the main event of the fight card.
Next is Mike Thomas (33:49), who will be making his professional mixed martial arts debut as he will be taking on Jeremiah Harper (40:24). And speaking of Harper, they talk to him following the interview with Thomas and this fight will also be his mixed martial arts debut.
Thanks for listening and we would appreciate if you would like, and share the podcast with your friends.
Subscribe to The Valor Hour on Apple Podcasts, Stitcher, and Google Play
Podcast: Play in new window | Download | Embed