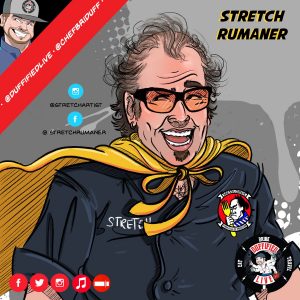 This week, Chef chats about employees and the desire to educate and empower them through education and knowledge. The upsell always happens easier when a staff has all the tools to succeed. Always remember that.
Then, it's a loud and "tell all" conversation with Stretch Rumaner, a Chef, artist, sculpter, traveler, restaurateur, and all around funny dude! Stretch has a way with a story and a world that is all about art, Jack Daniels, and experiences. He also tells you how a guy can break a finger on a 3,000 year old street in Spain. Yep, it happened.
Follow Chef Brian Duffy on Twitter and on Facebook.
Check out his website to learn more about him, to find his products, and some incredible recipes!
Listen to the Duffified Live show archive on Radio Influence!
Subscribe to the show on Apple Podcasts, Stitcher, TuneIn Radio, and now on Google Play and make sure to rate and review!
Podcast: Play in new window | Download | Embed