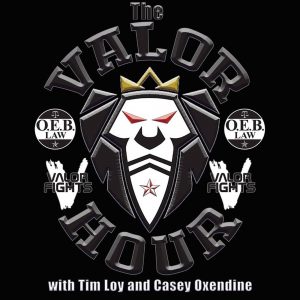 This week, Valor Fights President Tim Loy and his co-host Casey Oxendine are joined by special guest host Jeff Hobbs to recap everything that went in Las Vegas at UFC 213, namely Amanda Nunes backing out of the fight due to sinusitis and what it means to the sport and Nunes as a fighter.
Following their normal Q&A segment, the guys are joined by Cee Jay Hamilton (43:52) to talk about his upcoming fight against Casey Kenney for the UFC, his appearance on "Dana White's Tuesday Night Contender" show and how it all came together, and his desire to dominate the flyweight division of MMA.
Next, the guys chat with Amy "Donkey Kong" Coleman (56:33) who battles Felicia Spencer at Invicta FC 24 on July 15. They talk about the difference between her first fight with Invicta and this her second fight with the group, her Judo background and how her MMA career has developed, her physicality, and her advice to any young women looking to get into MMA themselves.
Then, the guys set their sights on heavyweight Dustin Dyer (1:09:23) who battles Sam Promanee after a three year layoff at "Valor Fights vs Conflict MMA: Worlds Collide" on July 22. This long time vet of Valor Fights talks about why he wants to return now, how this fight came together, how he's trained coming into this fight, and what he's been up to during his layoff.
Finally, the guys wrap up by talking with Lindsey Jones (1:18:44) talks about his upcoming fight against Jason Wolf at "Valor Fights vs Conflict MMA: Worlds Collide" on July 22 in Rome, GA. Jones talks about Wolf being a guy who will be willing to go toe to toe with him, Wolf's age possibly being a factor, what he's added to his repertoire since his last fight in April, training at American Top Team, and how the loss to Elijah Winter in his first amateur fight back in September 2013 really opened his eyes as to what he needs to do to succeed.
Follow Valor Fights on Twitter: @ValorFights
Follow Tim Loy on Twitter: @TzLoy
Follow Casey Oxendine on Twitter: @CaseyOxendine
Subscribe to The Valor Hour on Apple Podcasts, Stitcher, and Google Play
Podcast: Play in new window | Download | Embed