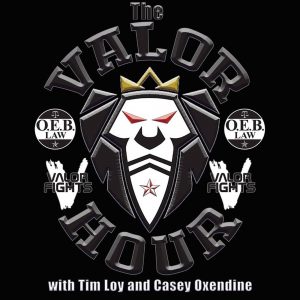 Tim and Casey start off this episode of The Valor Hour by recapping what happened last weekend at UFC Fight Night: Holm vs. Correia and 50Fifty Fight Night II. Then they get into questions submitted online via the Valor Fights social media accounts and one of the questions has to do with rising Valor Fights prospect Ahva Mayi.
After answer the questions submitted by listeners, Tim and Casey have two fighter interviews as they are joined by Kobe Wall (24:21) and Jakob Clemons (24:21). Wall previews his boxing bout on Friday and Clemons talks about his fight against Diego Bautista at Fight Night at the Shed on June 30.
Following those interviews, they preview this weekend's Conflict 43 and Warrior FC cards that will be streamed on FloCombat. Conflict MMA matchmaker Jared Williams (32:32) joins the guys to preview his fight card and then they are joined by Warrior FC promoter Jimbo Collins (1:00:23) to get you ready for his event that will also take place on Saturday.
Follow Valor Fights on Twitter: @ValorFights
Follow Tim Loy on Twitter: @TzLoy
Follow Casey Oxendine on Twitter: @CaseyOxendine
Subscribe to The Valor Hour on Apple Podcasts, Stitcher, and Google Play
Podcast: Play in new window | Download | Embed