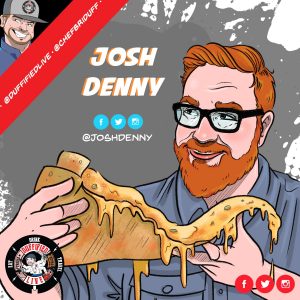 This week, B-Duff talks about the importance of being present in your business. He recently had a jackass GM who went to jail and then hired a GM with the inability to execute! Adios Muchacho!!!!
Then, Chef lightens it up a bit with the always funny host of the Food Network show "Ginormous Food," Mr. Josh Denny. Josh is a Philly native living in Los Angeles doing his stand up comedy while he travels all over the country for the biggest, the best, and the most creative MASSIVE food that's out there!
Follow Chef Brian Duffy on Twitter and on Facebook.
Check out his website to learn more about him, to find his products, and some incredible recipes!
Subscribe to the show on Apple Podcasts, Stitcher, TuneIn Radio, and now on Google Play and make sure to rate and review!
Podcast: Play in new window | Download | Embed