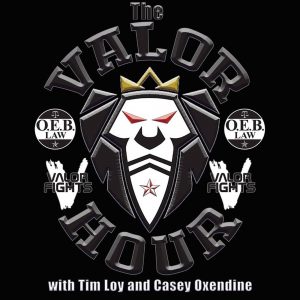 Tim Loy and Casey Oxendine kick off this week's episode of The Valor Hour by recapping what happened last weekend at the Warrior FC show and giving their thoughts on Bellator announcing their partnership with Monster Energy to put on fights at select NASCAR events in 2017.
On the interview portion of this week's podcast, the guys continue their preview of next week's Valor Fights 42 on Flo Combat as they are joined by Quinten Culpepper, Travis Conner, Lindsey Jones, John Henning, and Ace Samples.
To wrap up this week's podcast, the guys give a preview of Friday's Legacy Fighting Alliance 8 event that will air on AXS TV and give their predictions for the fight card.
Follow Valor Fights on Twitter: @ValorFights
Follow Tim Loy on Twitter: @TzLoy
Follow Casey Oxendine on Twitter: @CaseyOxendine
Subscribe to The Valor Hour on iTunes, Stitcher, and Google Play
Podcast: Play in new window | Download | Embed