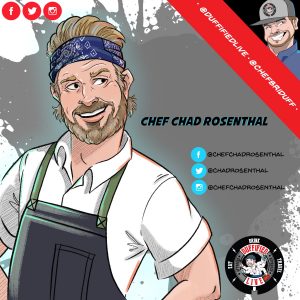 This week, Chef Brian Duffy talks about his travels over the last few weeks to both Tampa and Grand Rapids, his new tattoo that he got while in Florida, and then he digs into his Philly roots by chatting with Chef Chad Rosenthal.
Not only is he one of Chef Duffy's close friends, he is also a "Next Food Network Star" finalist, a restaurateur, and owns three successful spots in Philadelphia (The Lucky Well and two Banh Street locations). Chad even gets a surprise visit during the show from one of his favorite customers as well!
Follow Chef Brian Duffy on Twitter and on Facebook.
Check out his website to learn more about him, to find his products, and some incredible recipes!
Subscribe to the show on iTunes and Stitcher and don't forget to rate and review the show.
Podcast: Play in new window | Download | Embed