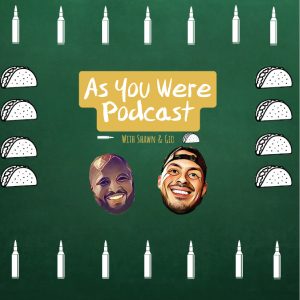 Shawn and Gio have Dylan Walker on the podcast, a military veteran who shares his reasons for joining the marines, his departure from service, combat sports, and finding his calling for stand-up comedy. Sit back and enjoy the fun motivational conversation between three veterans.
Thanks for listening to this episode of the As You Were Podcast and if you have a comment for a future episode, leave a comment below and show your support for the show by leaving a rating and review on Apple Podcasts.
Subscribe, Rate and Review to "As You Were Podcast" on Apple Podcasts, iHeartRadio, Spotify, Stitcher, Google Podcasts, or TuneIn Radio.
Podcast: Play in new window | Download | Embed