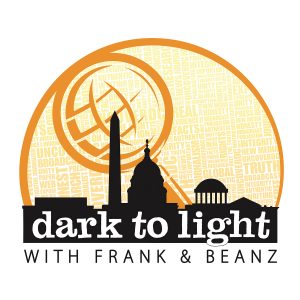 On the show today, Tracy Beanz of UncoverDC.com spends some time talking about her experiences over the past few days in her quest to become the Executive Committeewoman for Horry County's GOP.
Then, she and Frank discuss new vaccine fears, Biden alone with a mask, a development in the Chauvin case, and so much more!
Don't miss the show!
Today's episode of the Dark To Light Podcast is presented by LightStream. If you're looking for a way to save some extra money, why not start by paying less interest on your credit card balances? Refinance with a Credit Card Consolidation Loan from LightStream, who offers Credit Card Consolidation loans from 5.95% APR with Autopay and excellent credit. Just for our listeners, apply now to get a special interest rate discount and save even more! Get this discount and learn more at LightStream.com/DARKTOLIGHT. (Subject to credit approval. Rates range from 5.95% APR to 19.99% APR and include 0.50% AutoPay discount. Lowest rate requires excellent credit. Terms and conditions apply and offers are subject to change without notice. Visit LightStream.com/DARKTOLIGHT for more information.)
LINKS WE DISCUSSED
The National Center of Biotechnology Information: Facemasks in the COVID Era: A health hypothesis
Follow Tracy Beanz on Gab, CloutHub, her Linktree, and make sure to subscribe to her YouTube channel and check out her newest venture, UncoverDC.com! 
Click here if you'd like to support UncoverDC.com!Follow Frank on Twitter, subscribe to his YouTube channel, and follow his solo podcast, Quite Frankly! Click here if you'd like to support Quite Frankly!
Also, don't forget to check out and follow the Dark To Light Telegram Room! (https://t.me/DarktoLightPodcast)
Subscribe to Dark To Light With Frank & Beanz on Apple Podcasts, Stitcher, TuneIn Radio, Google Play, the iHeartRadio app, and now on Spotify!
Podcast: Play in new window | Download | Embed