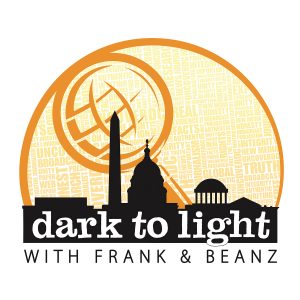 We did a great news round-up today! We spoke about the horrible treatment of the National Guard, COVID (or lack thereof), election fraud, Aurora, and more! Please make sure to take a read of the articles linked here. They provide some great background.
We will, indeed, be back on Monday!
LINKS WE DISCUSSED
UncoverDC.com: Doe v Twitter – Twitter fails to protect a child
UncoverDC.com: An illegitimate President takes power
UncoverDC.com: Intelligence community wake-up call – Will they listen?
Follow Tracy Beanz on Twitter, subscribe to her YouTube channel, and check out her newest venture, UncoverDC.com!
Follow Frank on Twitter, subscribe to his YouTube channel, and follow his solo podcast, Quite Frankly!
Subscribe to Dark To Light With Frank & Beanz on Apple Podcasts, Stitcher, TuneIn Radio, Google Play, the iHeartRadio app, and now on Spotify!
Podcast: Play in new window | Download | Embed