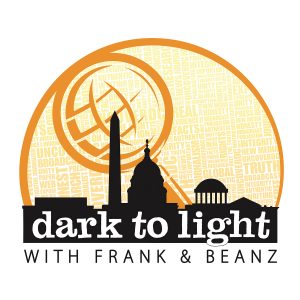 Tracy is on the road to D.C. but she and Frank still manage to pull off a cozy little episode. Updates on all of the legal trouble Democrats are in and by the grace of God will have to answer for. Are the voting machines rigged? Are the president's tweet typos more than just typos?
All of this and more as the nation prepared for a weekend of supporting POTUS in D.C.
LINKS WE DISCUSSED
Quite Frankly show notes – Dominion
This episode of Dark To Light is sponsored by ExpressVPN. It's finally time to say no to censorship and take back your online privacy at EXPRESSVPN.com/darktolight. By visiting my special link you'll get an extra 3 months of ExpressVPN service for free.
Follow Tracy Beanz on Twitter, subscribe to her YouTube channel, and check out her newest venture, UncoverDC.com!
Follow Frank on Twitter, subscribe to his YouTube channel, and follow his solo podcast, Quite Frankly!
Subscribe to Dark To Light With Frank & Beanz on Apple Podcasts, Stitcher, TuneIn Radio, Google Play, the iHeartRadio app, and now on Spotify!
Podcast: Play in new window | Download | Embed