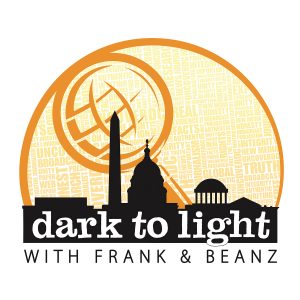 Are you tired of winning?! Today, we spend the show going over early vote totals and debate highlights, with a peppering in of some Ghislaine Maxwell analysis and the interview with Leslie Stahl.
It's a super entertaining show proudly brought to you by SimpliSafe! Make sure to head over to Simplisafe.com/DarkToLight and sign up to support our sponsors!
SimpliSafe has everything you need to protect your home with none of the drawbacks of traditional home security. Professional monitoring keeps watch, day and night, ready to send police, fire, or medical professionals in the event you have an emergency. The best part of SimpliSafe is you can set it up in under an hour and it all starts at $15 a month. Visit Simplisafe.com/DARKTOLIGHT and get a free HD camera!
Links Mention On This Episode
Follow Tracy Beanz on Twitter, subscribe to her YouTube channel, and check out her newest venture, UncoverDC.com!
Follow Frank on Twitter, subscribe to his YouTube channel, and follow his solo podcast, Quite Frankly!
Subscribe to Dark To Light With Frank & Beanz on Apple Podcasts, Stitcher, TuneIn Radio, Google Play, the iHeartRadio app, and now on Spotify!
Podcast: Play in new window | Download | Embed