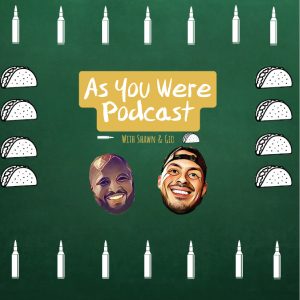 In this episode of the As You Were Podcast, Gio and Shawn talk about the preparation for Gio's Muay Thai Fight.
Having to face the challenges of training for an amateur fight, not being in control of situations, and how it translates into life. When trying to accomplish goals, what tolls do they take on you and when do you question if it's worth it. Who's your opponent?
Subscribe, Rate and Review to "As You Were Podcast" on Apple Podcasts, iHeartRadio, Spotify, Stitcher, Google Podcasts, or TuneIn Radio.
Podcast: Play in new window | Download | Embed