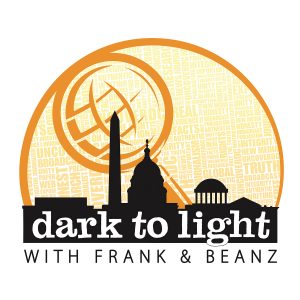 With Tracy Beanz off, Frank fills in all by himself, in one of the loneliest episodes in Dark To Light history. So please, press play, and spend some time with the old chap as he sifts through news on the recent Twitter "Hack", COVID-19 Vaccine Trials, and a wonderful array of questions from the audience.
Today's episode of Dark To Light is presented by Native. Native Deodorant doesn't just block odor better, it's made better. Native has ingredients you've heard of like coconut oil, shea butter, and tapioca starch. It's also vegan and never tested on animals. With over ten scents, including rotating seasonals, Native has something for everyone. Their most popular classic scents are Coconut and Vanilla, Lavender and Rose, Cucumber and Mint, and Citrus and Herbal. Make the switch to Native today by going to NativeDeo.com/DarkToLight, or use promo code "DARKTOLIGHT" at checkout, and get 20% off your first order.
Follow Tracy Beanz on Twitter, subscribe to her YouTube channel, and check out her newest venture, UncoverDC.com!
Follow Frank on Twitter, subscribe to his YouTube channel, and follow his solo podcast, Quite Frankly!
Subscribe to Dark To Light With Frank & Beanz on Apple Podcasts, Stitcher, TuneIn Radio, Google Play, the iHeartRadio app, and now on Spotify!
Podcast: Play in new window | Download | Embed