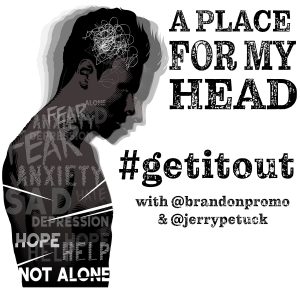 This week on A Place For My Head, Brandon Thompson and Jerry Petuck sit down for an open, candid conversation with Jaret Reddick, lead singer of Bowling For Soup.
Bowling For Soup has released ten studio albums, two live albums, and been on the music scene since 1994. What you may not have known about is the depression that Jaret has dealt with for years. Today, he opens up about his career on stage and off, experiencing his first panic attack and not really knowing what it was, going through a divorce and being diagnosed with depression at the same time, dealing with weight gain as a result and taking criticism from fans, why he's opening up about his struggles, and so much more.
Jaret is an incredible guy that we know you're going to love.
If you feel you are in crisis, please call the National Suicide Prevention Lifeline at 1.800.273.TALK (8255).
Follow us on social media:
A Place For My Head: Website Facebook
Brandon Thompson: Facebook Instagram Twitter
Jerry Petuck: Facebook Instagram Twitter
Make sure to visit the A Place For My Head website!
Subscribe, rate, and review A Place For My Head on Radio Influence, Apple Podcasts, Stitcher, TuneIn Radio, Google Podcasts, iHeartRadio, and now on Spotify!
Podcast: Play in new window | Download | Embed