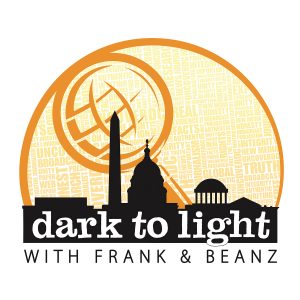 Get ready for it because today is a crazy show! We start the show off a little… erm, strange(?) but you will understand why as we go along.
Then, we have a great time talking with Aubrey Huff and getting into sports, culture, and aliens? What could POSSIBLY go wrong?!
Make sure to tune in to the Dark to Light Podcast and check out Aubrey Huff's podcast as well "Off the Cuff with Aubrey Huff" on all major podcasting platforms.
LINKS WE COVERED
Follow Aubrey Huff on Twitter
Follow Tracy Beanz on Twitter, subscribe to her YouTube channel, and check out her newest venture, UncoverDC.com!
Follow Frank on Twitter, subscribe to his YouTube channel, and follow his solo podcast, Quite Frankly!
Subscribe to Dark To Light With Frank & Beanz on Apple Podcasts, Stitcher, TuneIn Radio, Google Play, the iHeartRadio app, and now on Spotify!
Podcast: Play in new window | Download | Embed