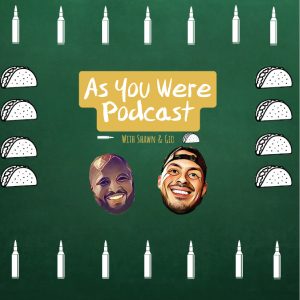 In the debut episode of the "As You Were Podcast," learn about who Shawn Lopez and Gio Benavides are. They tell you about their time serving in the United States military, how they met each other, and what their goals are with this podcast.
Hear our personal stories as civilians, both pre and post-military. Gio and Shawn learn how to effectively communicate with one-word text, and talk about Shawn's anger management, And learn a Military Officer's biggest pet peeve when enlisted don't salute. We hope you enjoy this week's episode of The As you were Podcast!
Subscribe, Rate and Review to "As You Were Podcast" on Apple Podcasts, iHeartRadio, Spotify, Stitcher, Google Podcasts, or TuneIn Radio.
Podcast: Play in new window | Download | Embed