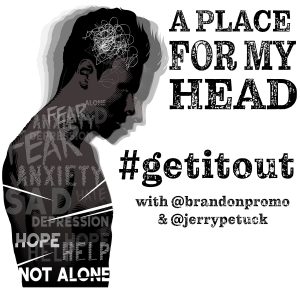 This week on A Place For My Head, Brandon Thompson and Jerry Petuck piggyback last week's incredible conversation with pro wrestler and actor Aron Stevens, who opened up about overcoming his own self-doubt, with some stories of their own battles with it and how it's something that haunts them every day.
From there, the guys discuss the high levels of stress and anxiety in the world due to the ongoing COVID-19 pandemic that's fueling back up and all the civil unrest in the country.
If you feel you are in crisis, please call the National Suicide Prevention Lifeline at 1.800.273.TALK (8255).
Follow us on social media:
A Place For My Head: Website Facebook
Brandon Thompson: Facebook Instagram Twitter
Jerry Petuck: Facebook Instagram Twitter
Make sure to visit the A Place For My Head website!
Subscribe, rate, and review A Place For My Head on Radio Influence, Apple Podcasts, Stitcher, TuneIn Radio, Google Podcasts, iHeartRadio, and now on Spotify!
Podcast: Play in new window | Download | Embed