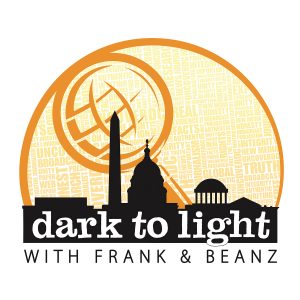 It is a busy Monday show as we dissect this new "Defund the Police" banter and talk about what it may mean for communities in states where it is being advocated.
We play some clips of AG Barr and Alisyn Camerota talking to a Minneapolis City Council member, and also read some of an article about the further politicization of the FBI under Christopher Wray.
Don't miss a minute of today's Dark to Light podcast! Oh, did we mention we're now on Spotify!!!
LINKS WE DISCUSSED
CNN's Alysin Camerota speaking to a Minneapolis City Council member
ShipwreckedCrew on RedState.com: "Social Justice Warrior-ing — Is That Now Taught At The FBI Academy?"
Follow Tracy Beanz on Twitter, subscribe to her YouTube channel, and check out her newest venture, UncoverDC.com!
Follow Frank on Twitter, subscribe to his YouTube channel, and follow his solo podcast, Quite Frankly!
Subscribe to Dark To Light With Frank & Beanz on Apple Podcasts, Stitcher, TuneIn Radio, Google Play, the iHeartRadio app, and now on Spotify!
Podcast: Play in new window | Download | Embed