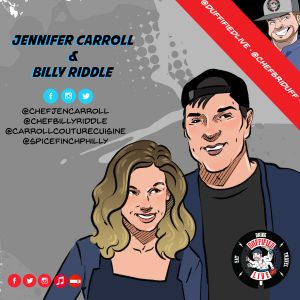 I finally get to have one of my favorite Philly chefs on the show! Well…she doesn't live in Philly anymore but I got the bonus of having her partner in crime on as well! Victory!
Chefs Jen Carroll & Billy Riddle are a great chat! I loved talking to them about how they share a kitchen, a life, and the insanity of the Coronavirus! Also, we dish on Jen's experience on Top Chef!
Follow Chef Brian Duffy on Twitter and Facebook.
Check out his website to learn more about him, to find his products, and some incredible recipes!
Listen to the Duffified Live show archive on Radio Influence!
Subscribe to the show on Apple Podcasts, Stitcher, TuneIn Radio, Google Play, and now on the iHeartRadio app! Make sure to rate and review!
Podcast: Play in new window | Download | Embed