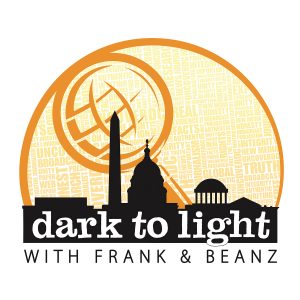 It is the beginning of the end for the SpyGate plotters. At least, that is what Beanz thinks we have in store over the next several weeks once General Michael Flynn is exonerated.
Frank and Beanz start the show with some exciting news about Little Val and move on to cover some horrific tweets and COVID-19 news.
From there, the rest of the show is dedicated again to a high-level overview of the case of Gen. Flynn, because it is CRUCIAL that folks understand what happened in this case as it serves as a foundation moving forward.
Do not miss this action-packed episode of the Dark to Light Podcast!
LINKS WE DISCUSSED
Lou Dobbs interview of Sidney Powell
Follow Frank on Twitter, subscribe to his YouTube channel, and follow his solo podcast, Quite Frankly!
Subscribe to Dark To Light With Frank & Beanz on Apple Podcasts, Stitcher, TuneIn Radio, Google Play, and now on the iHeartRadio app!
Podcast: Play in new window | Download | Embed