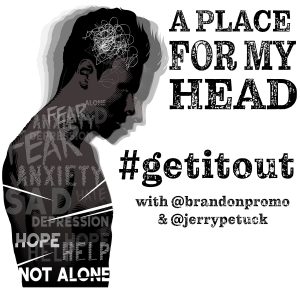 This week on A Place For My Head, Brandon Thompson and Jerry Petuck chat with one of Brandon's best friends and brother. They were able to get each other through the toughest times in life. Blake Young, formerly Pool Boy of 98 Rock in Tampa, and Brandon share their ups and downs throughout their years of trouble, hope, success, and failure. The amount of love and years it took to get them to an amazing place in life truly tested them to the core! Anxiety and Zoloft are at the forefront but it might surprise you how thankful they are for all things involved.
If you feel you are in crisis, please call the National Suicide Prevention Lifeline at 1.800.273.TALK (8255).
Follow us on social media:
A Place For My Head: Website Facebook
Brandon Thompson: Facebook Instagram Twitter
Jerry Petuck: Facebook Instagram Twitter
Make sure to visit the A Place For My Head website!
Subscribe, rate, and review A Place For My Head on Apple Podcasts, Stitcher, TuneIn Radio, Google Podcasts, iHeartRadio, and Radio Influence.com!
Podcast: Play in new window | Download | Embed