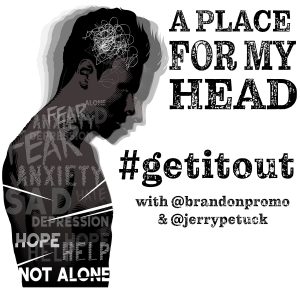 This week on A Place For My Head, we interview two of the most incredible people in the world with the biggest hearts, it's almost unimaginable! Joshua and Cynn Coburn open up about about their lives and what developed their passions in life, spreading kindness, love, amazing energy that's truly life changing. Authors and motivational speakers shattering stigmas and stereotypes of all different walks of life.
We are very excited for all of you to hear all the stories that all of us share, including your hosts, Jerry and Brandon. We both open up about things we've never mentioned in a public setting. You will laugh and may even get a tad emotional, but will leave you feeling great in the end. #GetItOut
If you feel you are in crisis, please call the National Suicide Prevention Lifeline at 1.800.273.TALK (8255).
Follow us on social media:
A Place For My Head: Website Facebook
Brandon Thompson: Facebook Instagram Twitter
Jerry Petuck: Facebook Instagram Twitter
Make sure to visit the A Place For My Head website!
Subscribe, rate, and review A Place For My Head on Apple Podcasts, Stitcher, TuneIn Radio, Google Podcasts, iHeartRadio, and Radio Influence.com!
Podcast: Play in new window | Download | Embed