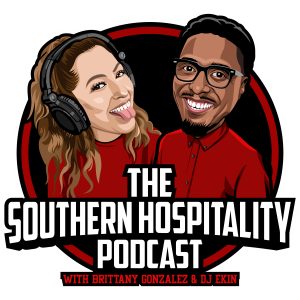 It's been a minute and Ekin has definitely missed you. While he was gone he was in the process of finding his match for that Southern Hospitality co-host seat. Look no further than radio mover (& twerker) Brittany Gonzalez.
Pretty sure that Southern Hospitality just hit another gear now that this sassy Florida native is on the mic. With so many plans in store for the show, Brittany's first day proves to be big fun and talk about everything from Ekin's role in her break in radio, Trump's impeachment, the upcoming Super Bowl (parties not the game) and more.
It's looking like the South has a lot more to say.
Be sure to subscribe, rate and review to the Southern Hospitality Podcast on Apple Podcasts, Stitcher, iHeartRadio, TuneIn Radio, and Google Podcasts.
Follow DJ Ekin on Twitter and Instagram
Follow Brittany on Twitter and Instagram
Podcast: Play in new window | Download | Embed