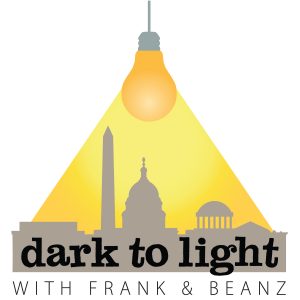 In this short episode, a lonely Frank sits in with a sore throat to discuss a few things that will bridge the gap between now and when Beanz comes back from her adventures at the American Priority Conference.
Here's what's going on……The 'Whistleblower' wants to testify in secret so that Adam Schiff can continue to ghostwrite for them.  Trump lands in Minnesota for a Rally and Urine-flinging Commies don't like it.  We also have more on Ukraine, Joe Biden, and what seems to be Hillary's inevitable candidacy.
That and so much more, it's hard to believe it's only 25 minutes!
Follow Tracy Beanz on Twitter, subscribe to her YouTube channel, and check out her newest venture, UncoverDC.com!
Follow Frank on Twitter, subscribe to his YouTube channel, and follow his solo podcast, Quite Frankly!
Subscribe to Dark To Light With Frank & Beanz on Apple Podcasts, Stitcher, TuneIn Radio, and Google Play!
Podcast: Play in new window | Download | Embed