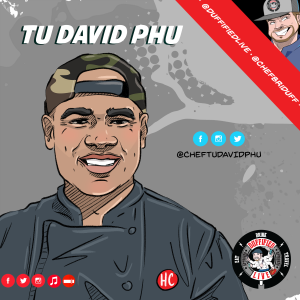 A few quick chats and a quick handshake in Spokane, WA were the beginnings of this conversation! This week on Duffified Live, Chef Brian Duffy chats with Chef Tu David Phu about pretty much everything. Immigrant, chefs, politics, food, quality of food, and even a quick mention of stuff that we hate to see in kitchen or on menus!
Chef Tu David Phu is a Vietnamese-American with family roots in Award Winning Fish Sauce Production, Hung Thanh 1895. After attending culinary school, Chef Tu's stints included the nation's top Michelin-rated restaurants: Chez Panisse, Quince, Acquerello, Daniel Boulud, Breslin, Gotham Bar & Grill and Gramercy Tavern. After serving as the Executive Chef of Gather in Berkeley, Chef Tu left to concentrate on his weekly pop up dinners. His pop-up series focusing on a Vietnamese tasting menu of dishes that reflect his childhood has garnered him press and accolades including the San Francisco Chronicle naming him a 2017 "Rising Star Chef." Long before cooking professionally, Chef Tu had a rich culinary background. His family hails from the Island of Phu Quoc, in South Vietnam. His frequent trips to Vietnam immersed him in the practices, ingredients, techniques, and flavors of Vietnamese cuisines. Tu's culinary style reflects a wide range of cooking cultures – from the American culinary greats, classical European traditions, to his Mothers' generations-old wisdom handed down grassroots-style.
Follow Chef Brian Duffy on Twitter, Facebook, and Instagram.
Check out his website to learn more about him, to find his products, and some incredible recipes!
Subscribe to the show on iTunes, Stitcher, TuneIn Radio, and Google Podcasts and don't forget to rate and review the show.
Podcast: Play in new window | Download | Embed