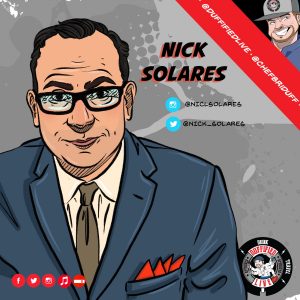 Let's talk MEAT…….and some restaurant stuff. This conversation with Nick Solares is like having a conversation with a master of their domain.
Nick is an Englishman in NYC with a doctorate in the art of meat. We talk about everything from eating to experiencing the multitude that the city has to offer as well as his experiences from his past shows to his newest project called "The Meat Life."
He is a food writer, photographer, TV presenter, and an expert and thought leader on meat eating. He is an advocate for dry aged steaks, fresh beef hamburgers, real wood smoked barbecue, heritage breed farming, and eating nose to tail.
Nick's career began as a hobby when he published Beef Aficionado, one of the pioneering food blogs back in 2006. Nick has over a decade of experience in the food space with over a thousand published articles and many hours of video content online.
​From 2007 – 2014, he wrote and photographed for the Serious Eats family of websites. First, reviewing hamburgers for the "A Hamburger Today" blog, pizza for "The Slice" blog, as well as reviewing restaurants and writing the popular Steakcraft column for "Serious Eats."​
Nick was the creative director for celebrity butcher Pat LaFrieda's Big App for Meat, produced by Zero Point Zero Productions. The app covers over three hundred cuts of meat, bringing a butcher's insider knowledge to the masses. It was named App of the Year by Apple in the Lifestyle section in 2011. In 2013 Nick served as a food and beverage columnist for amNew York, a commuter newspaper with a circulation of 300K.
​As an editorial photographer Nick specializes in food, kitchen and architectural work. He has a decade long archive and his photos have been featured on Eater.com, Serious Eats, Zagat, Grub Street, Time, Newsweek, NY Times, NY Post, AM New York, and Wine Spectator.
Nick worked at Eater NY from 2014 – 2017 as senior editor and then as restaurant editor where he reported on the NYC dining scene, oversaw the influential Eater 38 list; and continued his behind the scenes coverage with his Hot Dish and Meat Feast columns as well as maintaining his regular diet of hamburger reviews.
In 2015, Nick began hosting The Meat Show (TMS) for Eater Video. It followed Nick's exploration of meat culture across the US and the world. With over 100 episodes online, TMS visited Japan, UK, New Orleans, Texas, Philadelphia, New Jersey, and shot extensively in and around NYC. Hosted on YouTube, Facebook and Eater.com, TMS amassed a devoted following and videos have garnered millions views. TMS received back to back NY Emmy nominations in 2016 and 2017 in the Informational / Instructional category.
In 2018 Nick began production on a new video show called "The Meat Life."
Follow Chef Brian Duffy on Twitter and on Facebook.
Check out his website to learn more about him, to find his products, and some incredible recipes!
Subscribe to the show on iTunes and Stitcher and don't forget to rate and review the show.
Podcast: Play in new window | Download | Embed