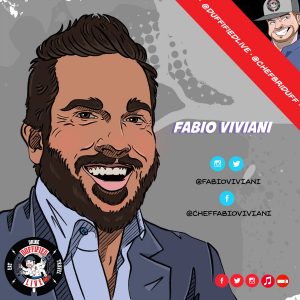 Chef Brian Duffy and Chef Fabio Viviani! Here we go, folks! These two are on a mission to change the hospitality scene and what goes on behind the scenes. They talk about everything from growing up in the business to creating the perfect working environment, plus a few other stories.
Chef Viviani has harbored a passion for food since his childhood growing up in Florence, Italy. Between training in Italian and Mediterranean cuisine at the top hospitality schools and working with culinary luminaries such as Alessandro Panzani and Saverio Carmagini, Viviani also owned and operated several concepts by the time he was 27 including two nightclubs and five restaurants in Florence. Although a well-respected businessman in Italy, he was ready for a change and in 2005, Viviani moved to California where he opened his first USA based restaurant Café Firenze in Moorpark, CA.
Teaming up with one of Chicago's restaurant consulting group, Dine|Amic, Viviani opened Siena Tavern in Chicago in 2013 and the following year he opened Mercato by Fabio Viviani, a quick-service Italian concept with branches in Chicago and San Diego. In 2015, Viviani continued to make a name for himself in Chicago by opening Bar Siena and Prime & Provisions. In 2016, he expanded to the LAX Delta terminal with the opening of Osteria by Fabio Viviani while opening additional Mercato by Fabio locations in Tempe, Phoenix, Cleveland, and Benton Harbor. In 2017, Fabio opened the Press Room in Detroit hot on the heels of his February opening of Portico by Fabio Viviani in New York's del Lago Resort & Casino.
Looking ahead to 2018, Viviani plans to open restaurants in Tampa, Detroit, Washington D.C. and Oklahoma City. He also plans to open high end food courts in Indiana, Pennsylvania, and West Virginia and Missouri before the end of the year.
Best known for his television debut on Bravo's hit series Top Chef—earning the "Fan Favorite" title—his on-screen appearances have propelled him to become one of the top culinary names in the country. He is a recurring guest on national television shows such as Good Morning America, The Rachael Ray Show, The Chew, and countless Food Network Shows such as Cutthroat Kitchen: All-Star Tournament, which he won. In February 2017, he also released "Fabio's Kitchen," a 52-episode cooking show hosted on YouTube.
Off-screen, Viviani is a regular headliner at global food events and aside from his restaurant businesses, Viviani also owns a Maine-based seafood delivery service called Lobster by Fabio and a winery in Sonoma that produces the five wine varietals in the Fabio Viviani Wine Collection.
In addition to having his own lines of cookware and culinary gadgets, he has also been a proud spokesman for international brands for the last decade including Arnold Premium Breads (2014/2017), Legends of Europe (2015/2016) Bialetti Cookware (2011/2017), Bertolli Olive Oils (2012/2015) and Johnsonville Sausage (2016/2017). He has authored four successful cookbooks: Café Firenze Cookbook, New York Times Best-Seller Fabio's Italian Kitchen, Fabio's American Home Kitchen, and most recently Fabio's 30-Minute Italian released in May 2017.
Among Viviani's other passions, he has a knack for business and entrepreneurship. A prolific tech investor and business speaker, not only has he delivered over 300 keynotes in the past 7 years, but he has been featured at several Fortune 500 companies' corporate functions to share expertise in branding, social media, and marketing. Most recently, he merged his mind for innovation with his passion for food when he collaborated with Chicago-based Sapphire Apps to release Food Porn Emoji by Chef Fabio Viviani, the first HD food emoji keyboard on the app market.
His varied accomplishments have impressed many, resulting in his induction into the Chicago Culinary Museum and Chefs Hall of Fame as 2017 Chef of the Year on March 8, 2017. Following Viviani's initiation, the mayor of Chicago also declared March 8, 2017 to be Chef Fabio Viviani Day in Chicago, encouraging Chicagoans to recognize his achievements and contributions not only to his home city, but also to the nation's culinary scene.
Follow Chef Brian Duffy on Twitter and on Facebook.
Check out his website to learn more about him, to find his products, and some incredible recipes!
Subscribe to the show on iTunes and Stitcher and don't forget to rate and review the show.
Podcast: Play in new window | Download | Embed