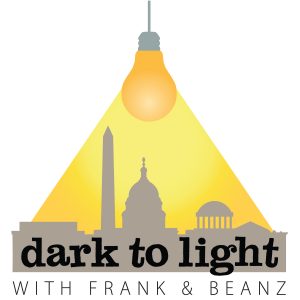 Frank and Tracy Beanz are BACK this week for a brand spankin' new episode of the "Dark to Light" podcast. We ran a few minutes long this week so if you are ready to laugh and have some fun, join us for the hour (ish)!
First, the pair talk about the "Green New Deal" advanced by Alexandra Ocasio-Cortez and her cohorts. Beanz has a super interesting theory about what may be going on here.
Then, Frank and Beanz dive into the farce that is the House Judiciary Committee oversight hearing with outgoing acting AG Matthew Whitaker. What did he say to Jerry Nader that has the entire internet buzzing? Also, there are some documents due to be released today in a spygate centric court case that are sure to grab folks attention and they delve into a little of that.
Beanz is excited that Brandon Straka from #WalkAway is considering running against AOC and they give some tips and tricks and hints onwhat may be to come, and then, they close it out with some talk about censorship, and Beanz gets a MASSIVE surprise!
Do not miss this weeks "Dark to Light" podcast!
LINKS WE TALKED ABOUT
The Federalist on The Green New Deal
Follow Tracy Beanz on Twitter and subscribe to her YouTube channel!
Follow Frank on Twitter, subscribe to his YouTube channel, and follow his solo podcast, Quite Frankly!
Subscribe to Dark To Light With Frank & Beanz on Apple Podcasts, Stitcher, TuneIn Radio, and Google Play!
Podcast: Play in new window | Download | Embed