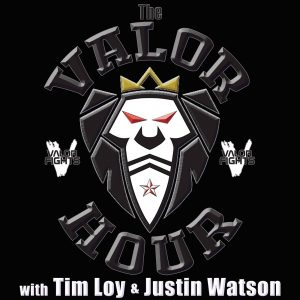 Valor Fighting Challenge matchmaker Tim Loy and Justin Watson are joined by Jeff Hobbs and Greg Hopkins to open the show recapping the great night of fights last Saturday night in Knoxville, TN at Valor Fighting Challenge 54. The guys recap the full card, the impressive knockouts, and some of the surprises for the night.
First up in the interview portion of the show, one half of the main event at Valor 55 for the Lightweight Championship at the Cotton Eyed Joe on February 2nd, the undefeated Joseph Long joins the show to preview his fight and talk about his training leading into his fight against Joe Bradley. He's fought and lost to Bradley in the past so he's certainly looking for redemption. He feels confident as long as he looks out for the submission and stays in control of the fight.
Trevor Peek checks in next. He's battling for the Welterweight Championship at Valor 55 against Tevin Brown, a guy he's very familiar with after a huge battle against him last year. He says he's looking forward to the fight to show his progress and put on another show with Brown. He also talks about his fight strategy for the fight and whether it will change or not, being more confident for this fight than the last, and whether or not he's considering going pro.
To wrap up the interview portion of the show, Brandon McMahan touches base with the guys. Brandon makes her Bellator debut this weekend in Los Angeles at Bellator 214 against Adel Altamini. The fight is at 145 lbs, which plays to McMahan's favor since he's taking the fight on short notice. He says that everyone would love to get a full camp and the last few weeks have been a whirlwind; the short notice won't play a factor in the fight. When it comes to his training for the fight, he says he never trains to his opponent. He trains to improve himself because once the fight starts, it's all about instinct.
Finally, the guys wrap up recapping the UFC Brooklyn fight card and share their thoughts and make their picks for Bellator 214 Saturday night.
Subscribe to The Valor Hour on Apple Podcasts, Stitcher, TuneIn Radio, and Google Play
Podcast: Play in new window | Download | Embed