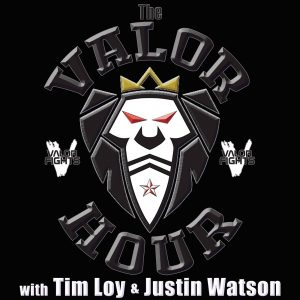 This week on The Valor Hour, Valor Fighting Challenge matchmaker Tim Loy and Justin Watson open the show discussing the stacked UFC 235 card that features Robbie Lawler and Ben Askren. Even though it's isn't until March 2nd, the guys take an early look at the card and discuss what they are looking forward to. They get into the relationship between the UFC and ESPN and how they will really push the thought of a monthly subscription for ESPN+.
Before the interview portion, the guys also discuss whether a Jon Jones/Luke Rockhold fight could happen in the future.
Andy Warski joins the show to discuss his MMA debut that's happening at Valor Fighting Challenge 54 January 19th in Knoxville, TN. Andy is a 12+ year YouTube personality and has well over 250,000 followers who started out as stand up comic but he has beef with his opponent, Tonka Saw, another YouTube personality. The two former friends can't stand each other and Andy says that essentially anyone Tonka has heat with, he threatens to fight them but no one has called him out….. until now. Andy says he's absolutely taking this fight seriously, has been training hard, and is now addicted to the sport.
Tonka then joins the show to tell his side of this YouTube battle and the relationship with Warski. He's also making his MMA debut and talks about how the fight came to be. He says it's kinda weird that this is actually happening because he expected Warski to back out of the fight. He talks about why this fight is so personal and it's going to be fun punching him in the face.
Next up, Tim has the opportunity to chat with Dre Miley, who is also fighting on the Valor Fighting Challenge 54 card January 11th. He's battling Marquise Johnson, a late replacement for Anthony Yost. Dre talks about the challenges of having a change of opponent this late in the game but he says he's good to go. Normally a flyweight, this fight is at bantamweight so he says it's been nice being able to keep the weight on a bit while he trains. Coming off a quick win in his last fight against Ned Spears, he talks about how he knew what was coming and was able to get him into the standing guillotine and put him to sleep.
"The Black Widow" Jessica Borga, half of the Main Event at Valor Fighting Challenge 54, touches base with Tim to talk about her upcoming fight against Shanna Young. She talks about her background, her life growing up, and how going into MMA just seemed appropriate. She jokes about originally wanting the nickname "Tornado" but her coaches had another idea. Coming off a win in her last fight this past April, she talks about having a long layoff in between fights but she's been training nonstop in spite of the break. She says that Shanna is very skilled, respects her a lot, and she can't wait to get into the cage to play the heel in the fight.
Finally, Tabatha "Batgirl" Watkins battles the debuting Milagros Carmen Carbajal next weekend in Knoxville. She talks about her background, her training in Michigan, starting her training in jiu-jitsu, and working hard to get noticed. Zamora is known to be a grappler and a wrestler but Watkins says that she's excited for the fight and she's gameplanned accordingly. She knows it's going to be great if the fight goes to the mat but she says not to sell her striking short. She also explains how she got the nickname "Batgirl" and how she wants to have her own "Bat Signal" as she comes to the cage one day.
Valor Fighting Challenge 54 is next Saturday, January 19th at the Knoxville Civic Center. Get your tickets at Ticketmaster.com.
Subscribe to The Valor Hour on Apple Podcasts, Stitcher, TuneIn Radio, and Google Play
Podcast: Play in new window | Download | Embed